We now have a brick + mortar location!
It's been a long time coming but we have finally opened our doors in Baby Point Gates. 335 Jane St. Come say hello and stock up on your favourite mustard.
See you soon!
HOURS ARE: WED-FRI 12-6 SAT 10-6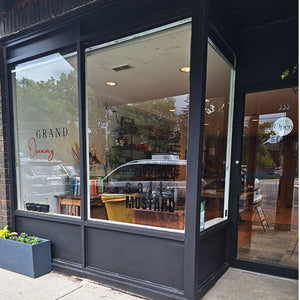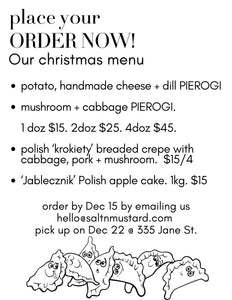 "Great things are done by a series of small things brought together"
 – Vincent Van Gogh
salt + MUSTARD wants to help you embrace this philosophy. Our finishing salts and artisanal mustards are created without additives or preservatives using only natures best ingredients. You can taste this purity in every bite. All our products are made in small batches with care and attention to the small things that can elevate an everyday experience into a luxurious event. salt + MUSTARD can help you transform your creations into something sensational and sublime.
About us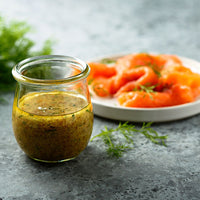 Check out our interview at Kensignton Market by Canadian Foodies
Testimonials
salt + MUSTARD makes food magic.

Esther L
Your white truffle mustard is my absolute favorite mustard of all
time!  I can't get enough of it!  I use it on my prime rib roasts,
beef wellingtons and with delicious sausages that takes them to a whole new
level.  I enjoy its incredible balance of flavours and richness, without
it being too over bearing-simply the best and most versatile mustard I have
eaten. I love love love this mustard!  

Homa B
my husband loves hot sauce but he's super picky. Now he keeps a back up at all times!

Christina
I love the Salt and Mustard products. We have at least one with almost every meal: Everything Seasoning on my homemade bagels, tangy hot sauces on lots of meals, gourmet salts baked onto my roasted potatoes / sweet potatoes, and various mustards on sandwiches or on the side of a nice steak. Thank you for making my food delicious!

Christine K
The most amazing mustard I've ever had. Can't recommend enough!

Graham C
black garlic VINEGAR is the last VINEGAR you'll ever need!

Adri H
Great products - the truffle mustard is a favourite of mine. Everything I've tried from salt + Mustard has been amazing quality. I give these products as gifts all the time.

Jennifer E
By far our favourite mustards! The black garlic line is a taste of heaven. The hot
sauce is the only one I use anymore. The black garlic mustard makes the most
delicious salad dressing, along with the black garlic vinegar
The grainy champagne mustard is my favourite on a ham and cheese croissant. And
my husband LOVED the red pepper mustard! Thank you for creating amazing
products with simple ingredients.
Love supporting local small businesses!

Britanie
Shipping was seamless to Montreal and was so happy to unbox my condiment treasure trove! The horseradish mustard is a delicious staple and I would buy it by the kilo if it were possible. The Black Garlic sauce is fantastic and the Hibiscus hot sauce is spicy hot with a wonderful light floral touch. Did I mention the free sample tasters? Such a lovely little add-on! ( Super cute packaging) We will keep getting more and more from this unique and quality food shop!

J Tee